I know Earth Day happens every year yet every year I forget to spread the word until it is virtually too late for libraries to plan events and get the word out (in 2010 I posted the day before Earth Day and I'm pretty sure 2011's post was after Earth day…) Well not this year!
Earth Day is an annual event held to raise awareness and promote action. There are literally thousands of events held world wide to exemplify the commitment communities, cities and countries have to making the earth healthier.
In some communities libraries not only participate in Earth Day events and activities but lead them as well.
Last year I picked up on the Topeka and Shawnee County Public Library's Green Fair: "get your green on!" Love it.
TSCPL  brought 20 community organizations together, they challenged the community to come up with 150 Green Ideas, the first 200 attendees at the fair received a free lilac bush, there were demonstrations by master gardeners and energy conservationists, a soil tunnel, gigantic wind generator propeller, live music, eo-crafts for the kids, and animals – including the humane society who brought pets for adoption. (I don't even know what a soil tunnel is! I must learn more!)
The library provided a bit of reader/watcher advisory as well (GREAT list of books and movies to promote at your library as well!)
The library published a "Green Report Card" on itself prior to the event to show they had a serious commitment to the issues: "Does the library practice what we preach – I mean aside from being Topeka's No. 1 book recycler?"
This wasn't just an Earth Day celebration. It was an expression of the library's role in the community as educator, collaborator, partner and leader.
Now while the TSCPL event may sound a bit bigger than you were thinking, no worries. There is a whole spectrum of ideas out there from small to large to choose from, here are just a few.
Check around the community to see what other organizations, agencies or government entities are thinking about for an Earth Day celebration. Don't assume no one else is thinking about this! Joining forces will have a bigger impact and attract an larger audience.
Displays in the library could include books and movies on a variety of subjects: gardening, energy conservation, passive design, solar, sustainable food production: caning, pickling, fermentation, enjoying the outdoors, land conservancy, water conservancy, edible flowers, recycling, reusing, reducing…
Programs throughout April could carry a "green theme" – at story time, adult book discussions, teen advisory group, etc. in addition to inviting in speakers who specialize in "green" areas.
Sponsor a recycling drive for electronics
Challenge your staff to find ways to reduce electricity, water and paper goods consumption in the library.
Sponsor or participate in a community "clean up" event in a local park, along a highway or waterway.
Plant some trees
Hungry for more ideas? Check out my post from 2010, 40 Ideas for the 40th Anniversary of Earth Day
Pledge your activities, encourage your patrons to do the same and advertise your commitment to The Earth Day Network's "billion acts of green" through the library!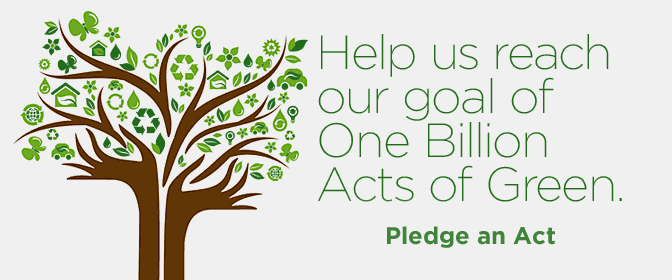 Earth Day 2012 is on Sunday, April 22. But feel free to celebrate for the whole month of April or year round!